SIEM-GUI awarded as one of the best innovations for SME
The initiative Mittelstand yearly awards the best innovations for medium-sized enterprises within 41 categories. This year, in the area of IT security the SIEM-GUI of this project was awarded as being one of the best and most innovative solutions that provide high utility value for medium-sized enterprises.
Since twelve years the Innovationspreis-IT (IT innovation award) is issued by initiative Mittelstand. The independent jury, composed of professors, researchers, industry representatives and journalists, chooses innovations with the highest utility value for medium-sized enterprises within 41 categories, such as Apps, CRM, Green IT, Unified Communication, and IT Security. SIEM-GUI stood up to other solutions and was awarded.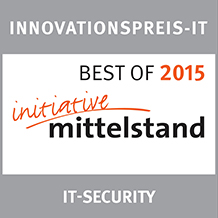 Within the scope of this project, a SIEM-GUI was developed as graphical user front-end for the IT administrator. It presents analysis results and incidents raised by the detection engine in an easily understandable way. The incident management provides a ticketing system and detailed information views, e.g. looking exactly at that part of the IFMAP subgraph that triggered a certain incident. The system recommends actions so that the overall network situation can be understood and handled without possessing expert knowledge.
We are happy to have received this award and would like to thank the initiative Mittelstand.